Product Overview
Bergen Cable manufactures a wide range of wire rope and cable products ranging in size from miniature to 3/8" diameter. Some of the products we specialize in include safety cable, push-pull control cables, Lock Clad cables, miniature cable assemblies, wire rope, and cable assemblies with custom end fittings.
Process & Quality
Bergen Cable uses a broad selection of materials, equipment, and secondary processes to produce the products that our customers rely on. Metals and plastics such as stainless steel, aluminum, brass, alloy steel, nylon, PVC, and Teflon are examples of the materials used in product manufacturing. Raw materials are processed into products by employing specialized machinery and highly skilled labor.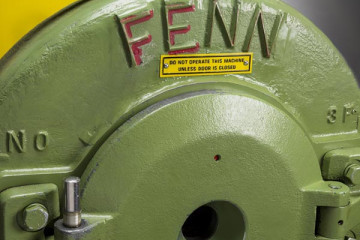 Rotary Swaging
Rotary swaging is a cold forming process, which joins end fittings to cable and wire rope by using a rotary hammer forming process. A die with the desired shape rotates around the work piece as it is fed into the machine. Rotary swaging allows for tight tolerances, finer surface finishes and greater breaking strengths for cylindrical-type end fittings.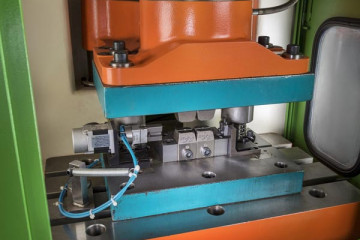 Hydraulic and Pneumatic Crimping
The use of hydraulic and pneumatic presses allows us to effectively and efficiently crimp end fittings to cable and wire rope. Some common end fittings that are crimped using this equipment include threaded studs, oval sleeves, stop sleeves, button stops, plain balls, and eyelets. Our presses range from small pneumatic presses to powerful 175-ton hydraulic presses.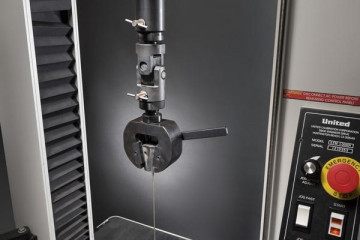 Pull Testing
Bergen Cable utilizes multiple United testers as well as numerous customized digital proof loaders providing pull testing up to 22,500 lbs. Whether you require destructive testing or proof loading of one piece, a specified sample lot or 100% of your product, we have the equipment to meet your needs.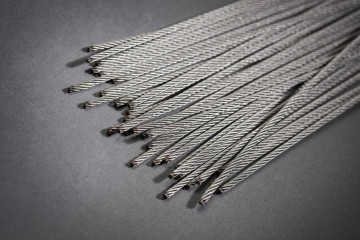 Fused Cut Cable
Electrically cutting cable provides a clean cut with fused ends that will not unravel. An added benefit is the speed in which this equipment automatically cuts cable to specific lengths. Bergen Cable currently utilizes multiple free standing and tabletop Ewald flash cutters.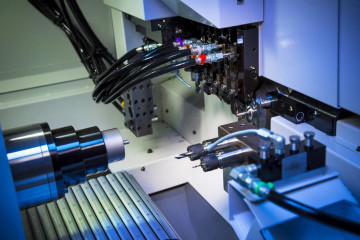 Precision Machining
Bergen Cable operates a comprehensive machining division comprised of CNC Turning Centers, CNC Milling Machines, and CNC Screw Machines along with a vast array of conventional machining equipment. Unlike other cable companies, utilizing our in-house machining capability allows us to produce highly customized end fittings while maintaining control of quality and reducing lead times.
Learn More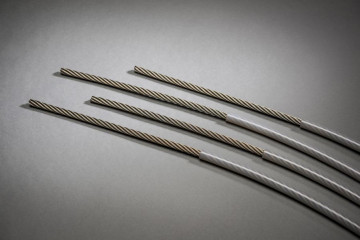 Coated Cable Stripping
When using coated cable for an assembly, it is cortical to remove the coating in the area which a fitting will be crimped. Removing the coating will allow for the assembly to achieve its proper holding strength. Bergen Cable does this by using numerous custom-made stripping machines. We have the ability to strip coated cable and wire rope up to 3/8" in diameter.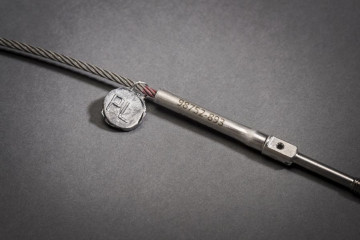 Part Marking
Identifying products with part numbers and other critical information per customer instructions is an important step in the manufacturing process. Electromechanical etching, hot stamping, metal stamping, heat shrink markers, and laser marking are some of the methods used for part marking.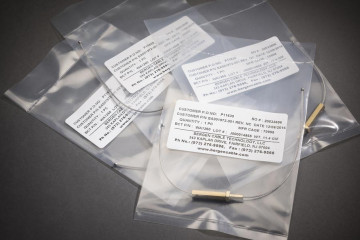 Custom Packaging
The pride we take in protecting the products we create is equal to our pride in manufacturing them. From basic bulk packaging to individually packed parts using specific materials requested by our customers, Bergen Cable products arrive as they left our facility. We also have the ability to provide military-specification packaging when required.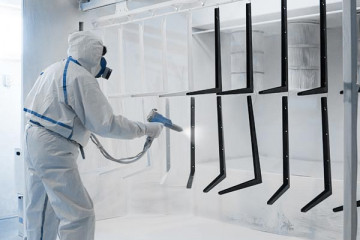 Processing and Finishing
Secondary processes such as plating, heat treating, and testing are provided in conjunction with companies that specialize in those services, ones with which Bergen Cable has long-standing relationships.
Quality
For more than 75 years, the Bergen name has been synonymous with quality. Bergen Cable holds multiple-QPL certifications from the U.S. Government, AS9100:2009, ISO 9001:2008 certification, and ITAR certification as well as being an approved supplier by numerous industry-leading aerospace and medical companies.

2008 Boeing Silver Award
2010 Boeing Gold Award
2011 Boeing Silver Award
2012 Boeing Silver Award
2013 Boeing Silver Award
2015 Boeing Silver Award