Aircraft Cable Assemblies | Custom Aircraft Cable Assemblies
Cable assemblies are a collection of cables or wires laid around a strand and affixed with fitting terminals and possibly conduits to facilitate a sub-assembly purpose in a system. The objective of these products is to combine the power of numerous distinct cables into a simpler, easy-to-operate mechanical sub-assembly.
Mil-Spec aircraft control cable meets the need for lightweight, strong, and flexible cable to control the functions of the aircraft. Because of the rigid, well-defined specifications governing the production of these cables, many industrial users have adopted this as their standard.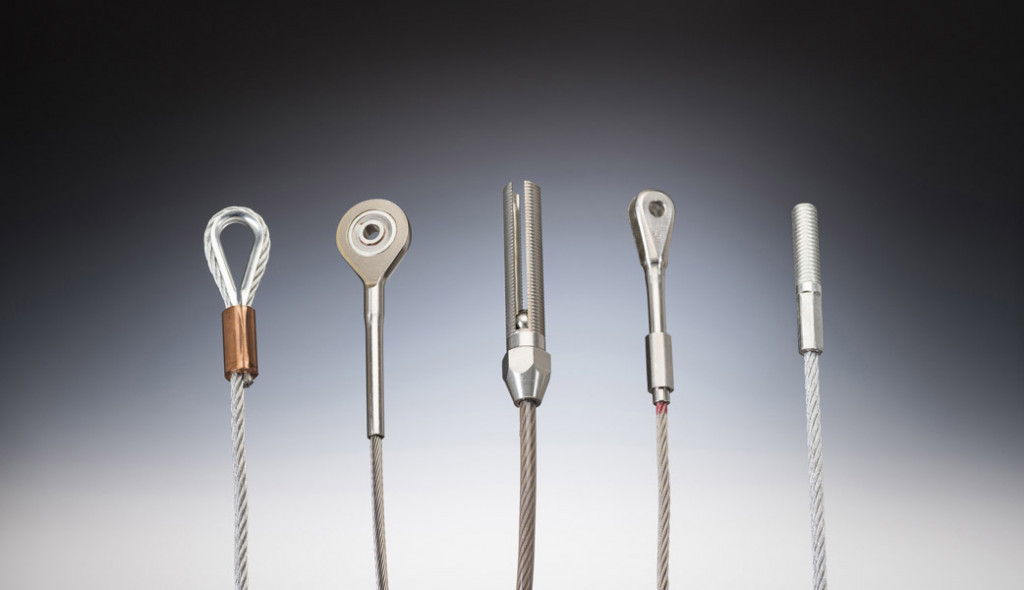 Aircraft Cable Assemblies Offered by Bergen Cable
Safety for aerospace pilots and passengers relies on high-quality push-pull cables and other cable assemblies. Bergen Cable Technology offers a diverse portfolio of cable assemblies; and has over 80 years of experience manufacturing aircraft cable assemblies.
Given our extensive experience in the aerospace industry, the cable advisors at Bergen Cable Technology know the requirements to best service this market. We are industry known for our legacy of providing the highest quality and service. Additionally, we pride ourselves on our ability to provide quick-turn prototyping for engineered solutions and custom aircraft cable assemblies.
Our Diverse Portfolio of Aircraft Cable Assemblies
Our main products regarding the aircraft cable assemblies are as follows:
Aircraft Safety Cable™:
In 1988, Bergen Cable introduced the market to Safety Cable™ after developing in partnership with General Electric Aircraft Engines. Since then, the Safety Cable™ System has replaced lockwire following adoption by the vast majority of aviation OEMs and maintenance repair organizations (MROs) around the world. The Safety Cable™ System is safe, easy, and consistent to use while eliminating rework, simplifying repairs, lowering assembly costs, and providing 50% faster installation.
Specifications:
Length: 6" to 24"
Diameter: 20mm to 60mm
Materials Used:
321 stainless steel
304 stainless steel
Inconel 600 (high-temperature coefficient and/or non-magnetic)
Inconel 625 (corrosion resistance)
Additional Information: The Safety Cable™ system is comprised of our state-of-the-art supporting equipment the Terminator™ tool, pre-loaded ferrules magazines, and test equipment.
Lock Clad Cables:
Bergen Cable is proudly one of the only two organizations in the world authorized to produce Lockclad cabling under MIL-DTL-87218. Lockclad cable assemblies are swaged aluminum alloy tubes onto a galvanized or stainless steel cable that fulfills MIL-W-83420 regulatory Specifications. Lockclad eliminates sagging in long lengths of cable and prevents wear of the cable as it passes through sealed bulkheads that would normally cause abrasion of the outer wires.
Lanyards for Aircrafts:
Bergen Cable lanyards are an adaptable solution for a multitude of use-case applications including when bolts, equipment, or parts require. A few applications where our lanyards exist today are door-restraint cables, theft-prevention cables, and aircraft fasteners.
Specifications:
Construction: 7×7, and 7×19
Material: Galvanized and stainless steel
Jacketing: Nylon and PVC jacketed available in various colors
Aircraft Control Cables:
Specialty cable assemblies designed to give a smooth, positive and precise transmission of mechanical motion that relays the command given by an operator from one place to another. It transmits the signal to the required area as per the requirements of the individual. They are rust, corrosion, and extreme temperature resistant and are flexible enough to be used and calibrated in tight spaces.
Miniature Cables on Aircrafts:
Miniature cables, Microlin™ (diameters =.010" to .048" and breaking strengths = 175 pounds), and Posilign™ (minimally elongating) were designed for tight locations and require great elasticity, sturdiness, and corrosion resistance. Bergen Cable's miniature cable assemblies have found use in a wide range of critical applications, including aerospace interiors.
Why Work With Bergen Cable?
At Bergen Cable Technology, we have been the leader in providing world-class solutions – in the development of new products as well as in value-engineering existing ones. Our long-term reputation for excellence stems from an in-house team of experienced engineers supported with the best equipment, precise manufacturing techniques, and the highest standards of quality assurance.
Our engineering staff works hand in hand with you to understand exactly what you need in virtually any commercial or military application. Our staff will help you develop the most cost-effective, yet reliable, solution engineered to your exact specifications and delivery requirements.
Some of the world's most demanding product applications rely on Bergen Cable Technology. That is why top OEMs worldwide refer to us as their "cable connection". We invite you to connect with us for complete, full-service, engineering support.